As week two of the workshops for the new protest musical What About Us commence, I felt it was time for a quick recap on our amazing first week. We moved into our new home the Institute of Music and Song in Balbriggan last Monday 5th July. We'll be here for four weeks!
We began the week settling in and familiarising ourselves with our fantastic new accommodation and facilities which include rehearsal halls, music rooms, amphitheatres, The La La Restaurant and lots more. Prior to the arrival of the Irish Youth Musical Theatre cast and musicians, our marketing and production teams put Covid-19 protocols in place such as 2 metre floor markings, sanitising stations and our very own What About Us branded face masks.
On arrival the cast and musicians had their temperature checked, showed their negative PCR test, dropped off their bags in their rooms. Everyone then gathered in the main rehearsal hall. The What About Us team had set up a storyboard in the hall with images of different cultures, emotions, genres of music and dance to inspire our cast as soon as they walked in the door.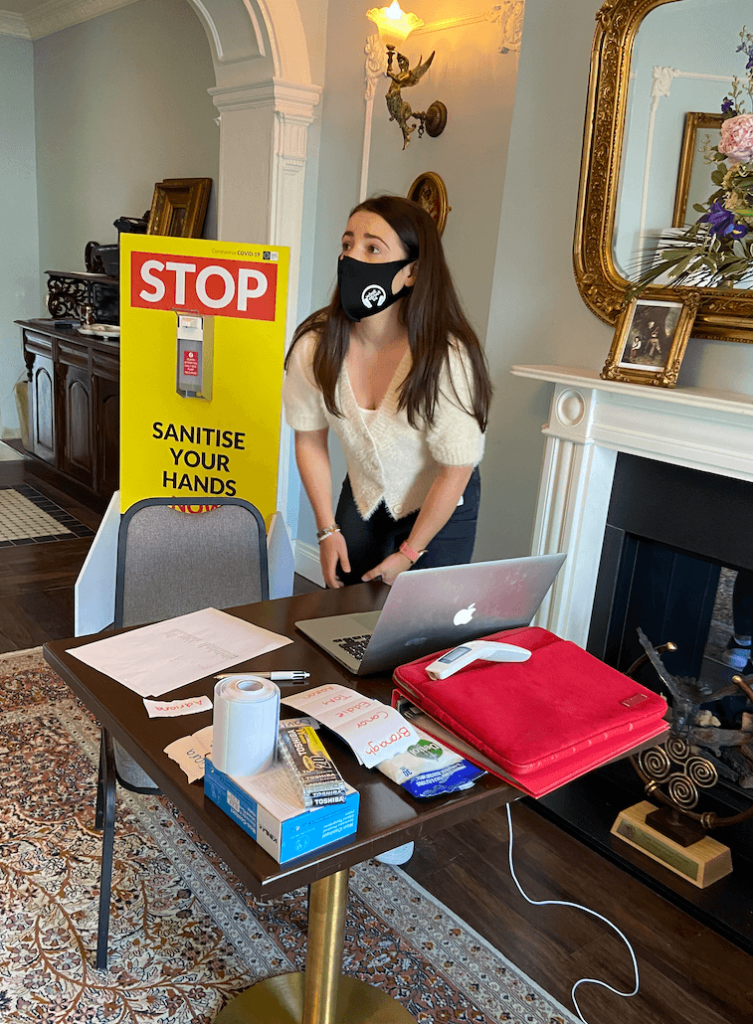 Our film crew was also on site. Director Ben Kavanagh and Producer Malcom Willis are creating a documentary around the journey of the development of this unique protest musical, from concept to world stage.
Irish Youth Musical Theatre Founder and Director Seimí Campbell bonded the cast and crew together with drama activities, exercises and diversions. Although the group have been working together via zoom for the past 5 months it was the first time they had met in person as a group. After loosening up, it was straight to work!
Music Director Des Cullen and Producer Aaron Wilkinson were also straight to work fine tuning music and lyrics which have been composed and written via zoom and the Bandlab platform over the past 16 months.
Workshops with Seimí and our IYMT cast included brainstorming ideas for the written plot, development of characters, emotional and physical analysis of characters, setting and choreography and any other creative ideas. During the first couple of sessions, the cast were sent off individually or in small groups, given a scene or section of the script and asked to develop it, act it out, choreograph or write a song to perform for an audience.
This incredibly talented group created some amazing and special work that has huge potential to be in our musical. As the cast developed a deeper understanding of the storyline and characters, they never failed to impress us with fantastic original songs, choreography, poetry and dialogues. The cast will continue to workshop the script in this style over the coming weeks with the ultimate goal of a final draft for the show.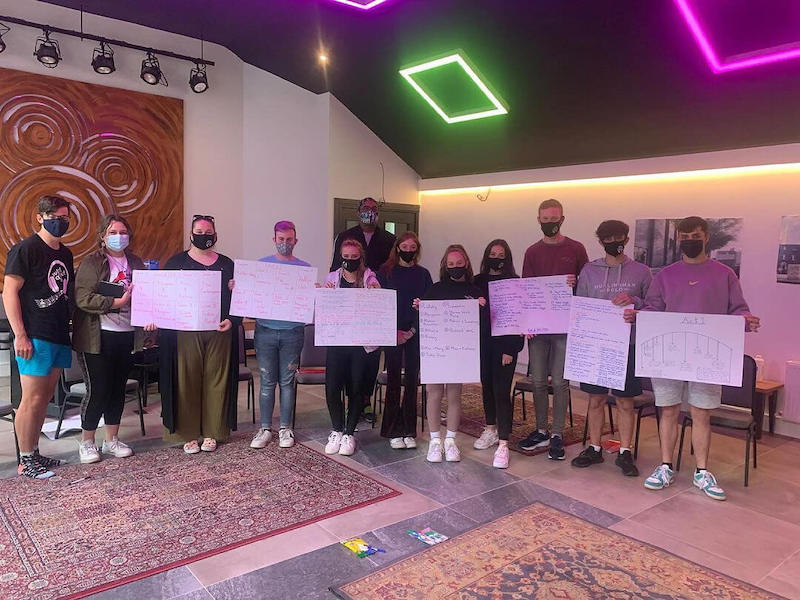 As a full and busy schedule took place during the day, everyone needed some leisure and entertainment in the evening. Open mic and sing along sessions took place after dinner as our talented cast, composers and musicians showcased their talent of classic songs and originals. This bonded our whole What About Us team and made us truly realise how grateful we are for these workshops to be taking place in person and the potential for magic!
On Thursday 8th July, our fourth day of our workshops, we were lucky enough to meet the talented Paul Oakley Stovall, who plays George Washington in Hamilton on Broadway! Paul kindly joined one of our sessions as the cast broke down each individual scene and added their ideas and plot twists. Each group delivered a unique and creative version of the script. Paul gave very helpful feedback and advice to our cast members and team. We were lucky enough to have a sing along with Paul after dinner.
On Friday, the last day of Week 1, we took part in a dance workshop and masterclass with the well-known Irish choreographer, Jane Shortall. Jane worked our cast hard in upbeat and energetic dance routines that relate to our storyline. She gave advice and inspiration to our cast on how to introduce choreography to our storyline and characters.
After a busy week covering all aspects of musical theatre; acting, composing, script and song writing, dancing and singing, our cast and team were very tired yet extremely proud of how much we achieved both personally and for our musical. We are very excited for what is to come over the next few weeks.
Bring on Week 2!!!