After a busy Week 1 and a weekend of rest we were ready to jump straight back into Week 2. As we were more familiar with our facilities and the structure of our workshops we began our second week with a precise timetable and an early Monday morning start.
The goal for this week was to focus on the musical aspects of our show. This included inviting musicians, bands and performers to our workshops in the Irish Institute of Music and Song in Balbriggan. In addition, our IYMT cast never failed to impress us with some original pieces (songs, lyrics, instrumentals, poetry and choreography) relating to the societal themes in our musical. They continued to break down and analyse the characters, scenes and themes with the help of Seimí Campbell as well as collaborative work with our invited guests.
Our first guest was Irish singer/songwriter Peter Richardson. With prior knowledge of our story and recent meetings with our Musical Director Des Cullen, Peter arrived with some fantastic original work. He performed two songs relating to forbidden love and conflict, two issues which are featured in our musical. Peter recorded these songs with Aaron Wilkinson as they have huge potential to be in our show. Peter also helped our IYMT cast with lyrics and melodies and did not hesitate to take part in our entertainment sessions in the evenings. In the 48 hours that he spent in our workshops, Peter certainly impressed us with his creative mind and talent. He was a great addition to the songwriting process of our musical.
Our second guest was Ciara Lyons, an Irish performer. Ciara has performed musical theatre all around Ireland, UK, and New York. Ciara was invited to workshop one of the lead female characters and record original pieces from our cast – composer Ofer Bashan, and songwriter Jaqueline Kennedy. Ciara worked closely with Aaron, Des and Ofer, recording and adjusting songs for our lead female characters. Ciara was an outstanding addition to the musical theatre aspect of our workshops.
We were lucky enough to have two bands attend our second week. The talented duo Ryan McDonald and Jack Joyce have worked together song writing and recording solos in addition to collaborating with other Irish artists. Ryan and Jack were welcomed by our IYMT Cast members and all worked brilliantly together. They did not hesitate to put their inspiration to work and began songwriting about soldiers at war and change in society. Jack and Ryan's song was recorded as they accompanied their duet with their guitar skills.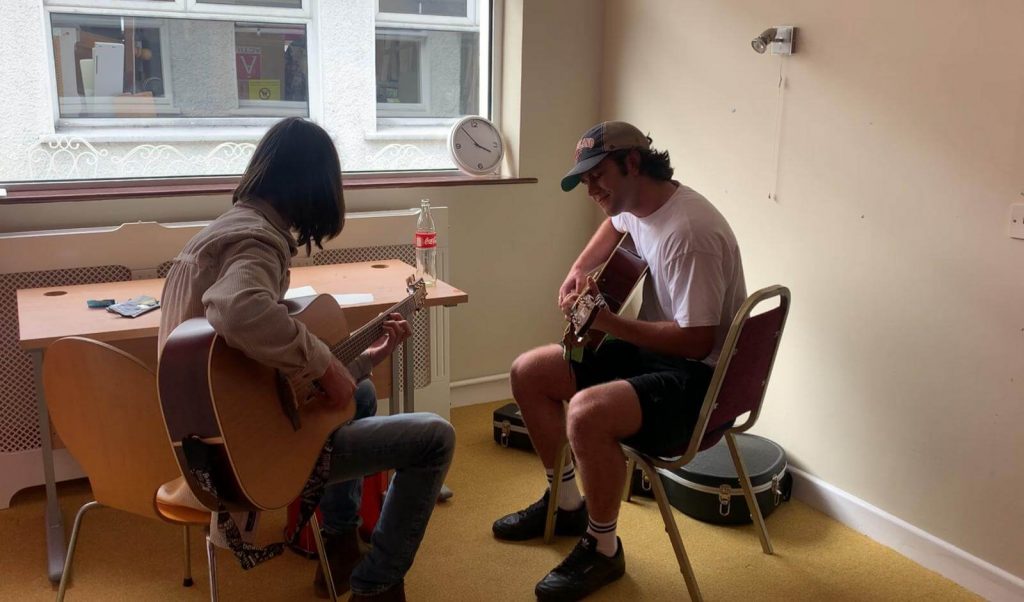 Our second band, Raw Cuts, an young Irish Rock band, arrived on the third day with a car load of electric guitars, amps, equipment and microphones and were guided to the band room where they began to set up. They presented us with an upbeat, heavy rock protest song, conveying issues of conscription and lack of choice for the young generation. They collaborated with IYMT cast member, Tom Dwan, to create a commercial number for one of our scenes. They performed a live concert for our cast in one of our theatres. It was truly inspiring for our cast to have such unique music and a contrasting perspective added to our musical.
As the second week of our workshops came to an end, our cast and teams met together to discuss our progress throughout the week. The unanimous desire for unity between our Musical and Movement was discussed. Adjustments and additions were made to our script and marketing strategies as we want a coherent message for our entire project. We are continuing to individually develop clearer understandings of our journey as we continue to cooperate and communicate during our workshops.
We are pleasantly surprised at how much we have achieved in just two weeks. With the combination of creativity, work ethic, relationships and passion, we are truly beginning to see our musical progress and develop into something very special!
Bring on Week 3!